Introduction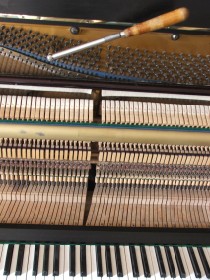 Piano Studio Kft. is owned and operated by József and Attila Badi. József Badi, master of piano making, has been buying, restoring and selling high quality pianos since the early 1980's. Now works closely with an expert team of technicians and rebuilders to establish and maintain high standards for piano rebuilding.
Services
We would be pleased to help you with:
tuning (highly trained specialists)
renovation (hand-wound bass strings, hand-rubbed lacquer finish, only the best quality materials used)
moving (our movers have more than 10 years of experience in moving pianos)
benches (all styles, please contact for details)
buying (have a look at our pianos or have a trained technician with you when choosing your next piano )
selling (ask for a valuation from our experts)
lending (short and long term)
Bored of your piano? Let us help you in selecting your next level piano. Your old one's value will be discounted from the new one's price.